EU Ghostlands



Forum levelling system rank images
by teebling • 13th April 2018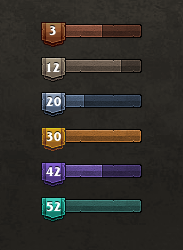 Description: This .zip includes 271 rank images that form a levelling system going from one to sixty. I designed them for use with my World of Warcraft: Classic forum hence the limit being sixty :)
Each level's progress bar has five states - empty, quarter full, half full, three-quarters full and totally full. Every ten levels the progress bar changes colour. Levels one to nine only have two states - half-empty and totally full. This is to make levelling faster at the beginning.
Each image is named in the following manner. Let's use level 12 as an example:
12-0.png (empty)
12-1.png (quarter full)
12-2.png (half full)
12-3.png (three quarters full)
12.png (full)
Each rank image is 101x25 in dimensions. All images have been compressed (removal of meta data) for web usage.
I have also included a master sprite for use as a CSS sprite where performance concerns exist.
The font used for numbers is Friz Quadrata TT (bold), I do not own this font.
Instructions for installation in phpBB are included in the readme.md file.
Download
(.zip, 620 KB)
Any questions, suggestions or other comments please feel free to leave a post!
Administrator • Site updates • Bug reports • Avatar requests


EU Ghostlands



Hrothgar wrote:

↑

Hey, these are great, would you mind sharing a license for them? I'd like to use them on my own personal website.

Do you plan to share the stone banner at the top too?
They're under a
Creative Commons license
so yeah go ahead (please read the link first).
The stone banner is from
Fanny Vergne
.
You might be interested in checking out my
credits page
too for resources and the like :)
Administrator • Site updates • Bug reports • Avatar requests

Similar topics

to 'Forum graphics • Levelling system rank images'
Posts
Views
Last post